Systemic Crises triggered by contemporary Pandemia and Progressive Way-Outs
03/05/2020 @ 13:54
The Association of Economic Universities of South and Eastern Europe and the Black Sea Region (ASECU) (http://www.asecu.gr/index_en.html), under the current presidency of the Aristotle University of Thessaloniki, presents the first ASECU teleconference: "Systemic Crises triggered by contemporary Pandemia and Progressive Way-Outs". The conference will be held this Friday May 8th, 16:00 (GMT +3) and it will last for 270' (=3x90').
3 Sessions: Macroeconomic, Business, Societal aspects of the Pandemia

Experts from different countries with different backgrounds

English speaking conference

Broadcast live

 
 If you are a Practitioner, an analyst, a policymaker involved in the decision-making process, an academician and pre- or post-graduate student, a labourer, a businessman, an entrepreneur, or an interested citizen of the world, you are our type!
 Video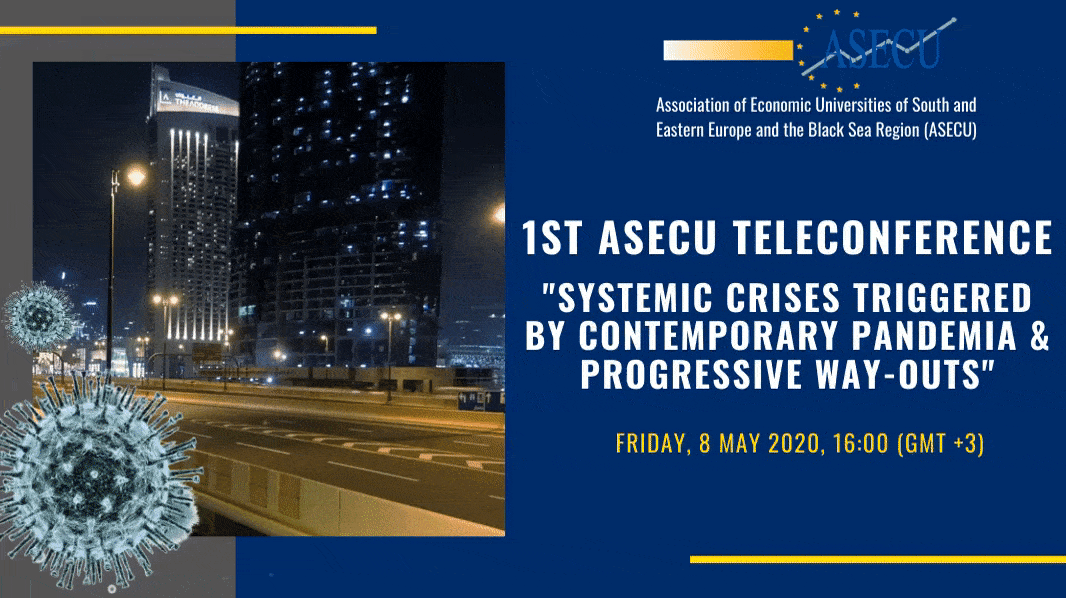 Schedule
           

Macroeconomic aspects: 16:30-18:00 (GMT +3)
Grigoris Zarotiadis, PhD, Associate Professor, President of Association of Economic Universities of South and Eastern Europe and the Black Sea Region (ASECU), Dean of the Faculty of Economic and Political Sciences in Aristotle University of Thessaloniki, Greece (MODERATOR OF THE 1ST SESSION)

Iraj Hash

, PhD, Emeritus Professor of Economics at Staffordshire University, UK, Former Director of Centre for Research on Emerging Economies

Prof. Dr. Tatyana Hubenova-Delisivkova, Researcher in Economic Research Institution of Bulgarian Academy of Sciences, Bulgaria, President of the Union of Economists in Bulgaria
Michael Hudson, President of the Institute for the Study of Long-Term Economic Trends, Wall Street Financial Analyst, Distinguished Research Professor of Economics at the University of Missouri – Kansas City, MO, USA
Prof. Dr. Jeffrey D. Sachs, University Professor and Director of the Center for Sustainable Development in the Earth Institute at Columbia University, New York, USA
Prof. DSc. Statty Stattev, Director of Institute of Economics and Politics at University of National and World Economy,Sofia, Bulgaria, Former Rector of the University of National and World Economy
Business aspects: 18:00-19:30 (GMT +3)
Prof. Leonid Nakov, PhD, Secretary General of ASECU, Full Professor at the Ss. Cyril and Methodius University in Skopje, Faculty of Economics – Skopje, North Macedonia (MODERATOR OF THE 2ND SESSION)
Prof. Joseph Chih-Yuan Hung, PhD, National Tsing Hua University, Taiwan
Prof. Arben Malaj, Former Minister of Finance and Economy, Albania

Prof. Tomasz Mroczkowski

,

Professor at American University, Washington D.C., USA

Zoran Narashanov, PhD, Chief Executive Officer and President of Management Board of Viena Insurance Group National Office in North Macedonia
Prof. Masayuki Susai, Professor of International Finance at the Faculty of Economics, Nagasaki University, Japan
Dr. Vasily Vysokov, Professor of Economics at Rostov State University of Economics, Rostov-on-Don, Russia, Chairman of the Board of Directors of Center-Invest Bank
Societal aspects: 19:30-21:00 (GMT +3)
Prof. Ioannis Theodossiou, PhD, University of Aberdeen, the UK, Professor in Economics, Director of the Centre for Labour Market Research (MODERATOR OF THE 3RD SESSION)
Dr. Arjan Gjonça, Associate Professor of Demography at London School of Economics and Political Science, the UK

Assoc. Prof. Matjaž Koman, PhD, Associate Professor of Economics in School of Economics and Business at the University of Ljubljana, Slovenia

Dr., Prof. Józef Oleński, Center of Regional and Cross-Border Research of the University of Rzeszow, Poland, Former Chairman of the UN Statistical Commission and Vice-Center of Regional and Cross-Border Research of the University of Rzeszow Chairman of the Conference of European Statistics, Former President of the Central Statistical Office in Poland
Dr.T. Sabri T. Öncü, Economist, Istanbul, Turkey
Dr. Jelena Žarković Rakić, Professor at Faculty of Economics, University of Belgrade, Serbia, Director of Foundation for the Advancement of Economics
For any additional information, feel free to contact our Organizing Committee: asecu.teleconference@gmail.com